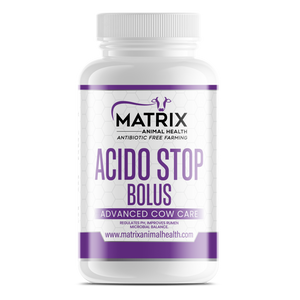 Ruminal acidosis (SARA) is one of the most important rumen health problems observed in intensively managed dairy cattle.
SARA can be induced by either:
Feeding insufficient fibre, or fibre which induces insufficient chewing or ruminating.
Feeding excess starch (cereals), particularly if overprocessed and/or heat treated which makes it very quickly fermentable in the rumen.
Through its innovative live yeast activity, the Acido Stop Bolus provides a buffering effect to regulate pH combating the adverse effects of Acidosis.
The bolus has a positive effect on rumen microbial balance and helps to bind toxins in the rumen
 Directions
1 bolus per head
Repeat if necessary
If symptoms persist consult vet
 It is recommended that a Super Boost Bolus is administered simultaneously.